Telkom has launched FreeMe Share Plans, a shared data plan that allows multiple SIMs to share a single data plan.
The company said in a statement the new plans are a response to changes in work and education arrangements amid the COVID-19 pandemic increase in internet data usage for families and small businesses.
The FreeMe Share data plan comes as 24-month post-paid contracts and include SIM-only or multiple-device combo options. According to Telkom, up to 10 SIM cards can share data, voice minutes, and SMS bundles with these contracts.
The plans are available in 3 options, namely: FreeMe Share 36GB, FreeMe Share 58GB and FreeMe Share Unlimited and are presented in the following Out-of-Bundle rates:
Voice R0.70 per minutes billed per second
Data   R0.30 per MB
SMS   R0.30 (160 characters)
"While some of the working force has headed back to work on South African's Level 1 national lockdown, many families and businesses alike have opted to either educate their children and/or work from home," says Gugu Mthembu, Executive: Brand and Product Segments at Telkom.
"This has meant equipping homes with education and work tools, especially data, in order to transition successfully. Telkom has responded to this by packaging plans that will empower South Africans without breaking the bank.
"We understand that circumstances are not the same and it was very important for us to tier the plans carefully depending on both the customer's needs and affordability."
For those wishing to expand their plan, Telkom said it has added an offering called FreeMe Share MultiSIM, which is a value added services that can be added onto a FreeMe Share plan.
FreeMe Share MultiSIM allows the FreeMe Share contract holder and up to nine secondary SIMs (FreeMe Share MultiSIM), to share resources including Voice, Data and SMS Bundles (Inclusive and adhoc Bundles) and Spend Limit.
The first 3 FreeMe Share MultiSIMs will be added at no addional cost, with a monthly subscription fee of R20 per SIM charged from the the 4th MultiSIM.
FreeMe Share Plan pricing and benefits: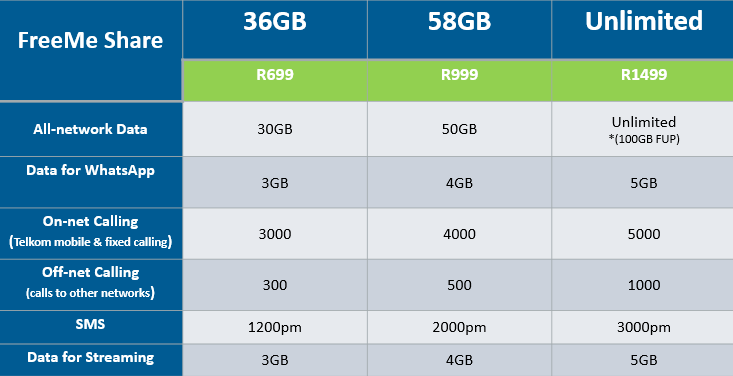 The FreeMe Share 36GB and FreeMe Share 58GB deals will get 10GB x3months additional data, as part of Telkom's Summer 2020 Campaign. International calling, roaming and premium-rated calling will not be included in the FreeMe Share Plan.
For more information about Telkom products, visit www.telkom.co.za, follow Telkom on Twitter @TelkomZA and our page on Facebook.