All Welkom Yizani, the black economic empowerment shares of media group Media 24, will receive a dividend of 34 cents a share for the 2020 financial year.
Welkom Yizani holds 15% stake in Media 24, a print media domination operation in the Naspers stable.
Welkom Yizani investors will receive a dividend of R6.2 million in 2020 resulting in a dividend of 42.5 cents a share before tax, said Media 24 in its annual report.
Welkom Yizani, Media24's broad-based black economic empowerment scheme, began trading its shares on the Equity Express Securities Exchange (EESE) in November 2018.
In 2016, Naspers, a preference shareholder in Welkom Yizani, waived R434 million in preference share debt and accrued interest owed by Welkom Yizani under scheme rules.
To date, R283 million has been paid to investors in dividend.
The major shareholders (top five) of Welkom Yizani are The Rubato Trust (8%), The Kumbule Trust (2%), Sello Soulman Nakedi (1%), Naspers Opvoedingtrust (1%) and Prevesh Hemrajh (1%).
The remaining shares are held by a vast group of individuals and other entities.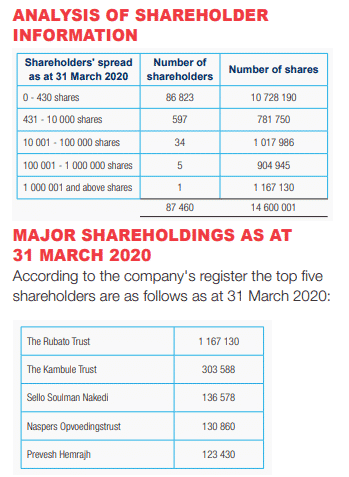 Investors paid in a subscription of R10.00 per share at the establishment of the scheme in 2006.
In the past 12 months, the share price has reached a low of R6.51 per share and at the same time shot up to a high of R11.99 per share.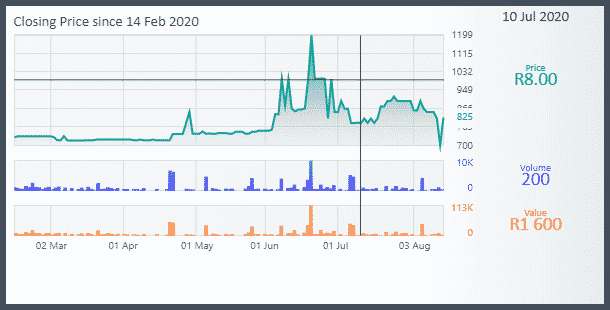 The stock was on Friday midday trading at R8.25 per share and yesterday was at R7.00 per share. This is way below the subscription price of R10.00 per share.
Investors of Welkom Yizani are losing money on this stock.
The more the share price is trapped below the R8.00 level it means Welkom Yizani investors who want to sell will make a big loss.
Currently, there are 14.6 million Welkom Yizani shares valued at R102 million