South Africa's Telkom has published its 2020 integrated annual report, which shows the group's ownership by geographical region.
As of 31 March 2020, Telkom is 50.5% owned by institutional investors, 40.5% held by the Government of South Africa, 6.4% is owned by non-institutional investors, and the remaining 2.6% is held as treasury share.
Broken down into geographical regions, Telkom's ownership is as follows:
South Africa – 44%
United States of America – 37%
United Kingdom – 9%
Europe – 6%
Rest of the world – 4%
Despite South Africans owning 44% of the telco, foreigners seem to have an appetite for buying shares in Telkom. Foreigners continue to see value in a business that is undergoing a restructuring of its business as it deals with declining performance in fixed-line voice services and migration into mobile data, fibre networks and financial services.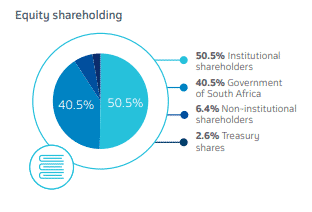 Foreigners now own 56% of Telkom shares, which is a vote of confidence.
Here are Telkom's top institutional investors
PIC – 14.8%
Acadian Asset Management – 2.6%
LSV Asset Management – 2.3%
The Vanguard Group – 2.3%
Dimensional Fund Advisors – 2.3%
BlackRock Institutional Trust Company – 2.1%
Sanlam Investment Management 1.7%
Grantham Mayo Van Otterloo & Co LLC 1.5%
Allan Gray (Pty) Ltd 1.1%
State Street Global Advisors (US) 1.1%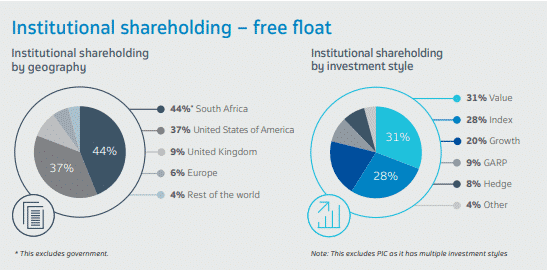 Telkom Dividend
Two months ago, Telkom declared a dividend of 50.08 cents per share for the year to March 2020.
Telkom also suspended dividends for three years as part of its plans to conserve cash after a 66% drop in full-year earnings.
Telkom shares performance