When you buy barcodes in South Africa in order for them to work, you need barcode scanners.  A barcode scanner can be defined as a piece of electronic equipment that can capture and analyse data that is encoded in a barcode. It can be stationary or handheld.   A code scanner involves a scanner, a decoder (which can be either external or built-in) as well as a cable which joins the scanner with a computer.   The scanner can be connected to the computer via a keyboard port, a serial port or even an interface device (named a wedge). The way the barcode scanner functions is by aiming light onto the barcode and calculating the quantity of light that bounces back.  This data is then transported to a computer, which then analyses the data and translates it into words on the screen.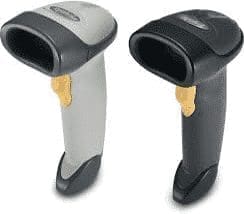 Barcode scanners come in five different kinds.
Pen Wands are the most basic kind. They are known for being tough and inexpensive.  The downside of this scanner is that are difficult to use since they have to be in constant contact with the barcode.  In addition to this, the Pen Wand only works if it is used at a very specific angle and has to be moved over the barcode at a particular speed.
A Slot Scanner is a barcode scanner that is stationary and the item must be pulled through the slot in order to be scanned. It is normally used with identification cards.
The CCD scanner (also called LED scanner) is far better than the Pen Wand scanner, because it scans the barcodes easier and it is for this reason that this barcode scanner is often used in the retail industry. This scanner consists of a gun that has to be held about one inch from the barcode.  The disadvantage of this kind of bar scanner is that it is not possible to scan a code that is of wider width than the input face.
An image scanner (also named camera reader) is a scanner that makes use of a video camera in order to scan the image of the barcode. It then uses modern image processing in order to decode the barcode.  It is much cheaper to use than a laser scanner and is able to read a code from 3 – 9 inches.
A laser scanner can be defined as a code scanner that makes use of a system of lenses and mirrors to scan a barcode. It can be stationary or handheld.  The biggest advantage is that it can read a barcode from 24 inches away.
In addition to this cell phone cameras can also be used to scan barcodes.  This is most evident in Snapscan, which is an app which allows one to pay via your phone.  You use the app to scan the QR Code and start the process of payment.

The most popular type of barcode scanner is called the wedge or corded scanner.  It accounts for around 96 per cent of all barcode scanners used each year.
Installing a barcode technology system is not tricky or very costly. This is because barcode technology is improving every day, which has lead to a decrease in the cost of barcode scanners.  One big advantage of barcode scanners is that it doesn't matter if the scanner is the most simple and basic model, they are all able to be programmed.   For most barcode scanners, the scanner is programmed by scanning in a precise list of barcodes in a particular order.  The majority of barcode scanners have computer tools that are able to this for you.   It is important that options for programming must define how the scanner will perform.  You can decide how to set the interface, at what times the light turns on and off, as well as the duration and volume of the beep.
The options for programming will be different depending on how expensive and complicated the scanner is.
SA Barcodes is a proudly South African company who is happy to provide fully registered GS1 Barcodes at the best prices.  Our GS1 South Africa barcodes are used in stores throughout Southern Africa as well as all over the world.